Project Goal
---
The Sugarloaf CID has installed solar-powered advanced technology cameras that capture license plates day or night. The Gwinnett Police have access to real-time info to immediately respond to alerts and solve crimes. The CID worked with Gwinnett County Police and Flock Safety to determine the best locations for the cameras to capture vehicles as they enter and exit the district.

The cameras use advanced technology to capture a vehicle's license plate day or night, plus the vehicle's make, model, and color. Timestamps are also included in the recordings making it easy to spot specific vehicles.

Our goal is not only to catch criminals and help police solve crimes, but also to help deter crime in the area. According to the Atlanta Police Foundation, areas properly covered with cameras see crimes reduced by 30 to 50% because better evidence needed to solve crimes is available through the footage captured.
Project Quick Facts
The Sugarloaf CID has invested in 35 cameras throughout the district.
---
Project Status
We are working with the Gwinnett Police on permit approvals for cameras in our expansion areas.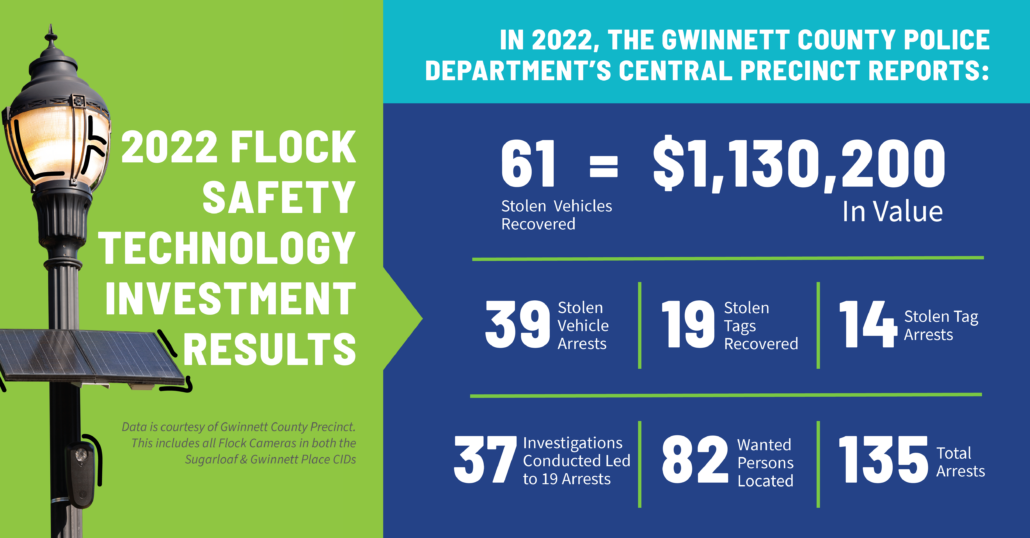 Testimonials
---
"After our engineer noticed items missing from a property we manage, I was able to pull up our security cameras and pinpoint when they were taken. I immediately emailed Mark Still, our crime prevention officer, sending him the video of the theft and asking if there were Flock cameras in the vicinity of the building. He told me there were and that he would look into it. Within 36 hours of sending that email, all stolen items were returned to the property. Because our cameras couldn't get a clear picture of the license plate involved, without the Flock cameras and the help of the Gwinnett Police, we most likely would have not been able to retrieve the stolen property."
–Kate Woyce, Property Manager, Taylor & Mathis
"Technological advancements are changing law enforcement and how we police. These new technologies are enabling large corporations, small businesses, communities, and even the everyday citizen to be more active in their own safety and protection. They can provide real-time data and information that can then be shared with Law Enforcement to make for a more collaborative effort in reducing, deterring, and identifying crime."
–Chris Smith, Assistant Chief, Commander, Uniform Division
Project Imagery
---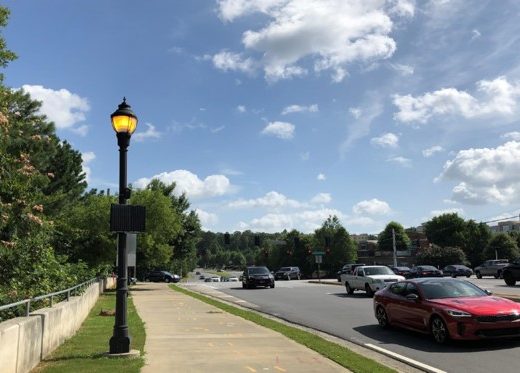 Project Partners
---