On November 3rd, Gwinnett voters will have the opportunity to fund a major expansion of transit in the county through a new, one-percent transit sales tax. The transit referendum is the very last item on the ballot. If you want to educate yourself on how this new transit plan can impact our community before you pull that lever, read on!
What is the Gwinnett Transit Plan?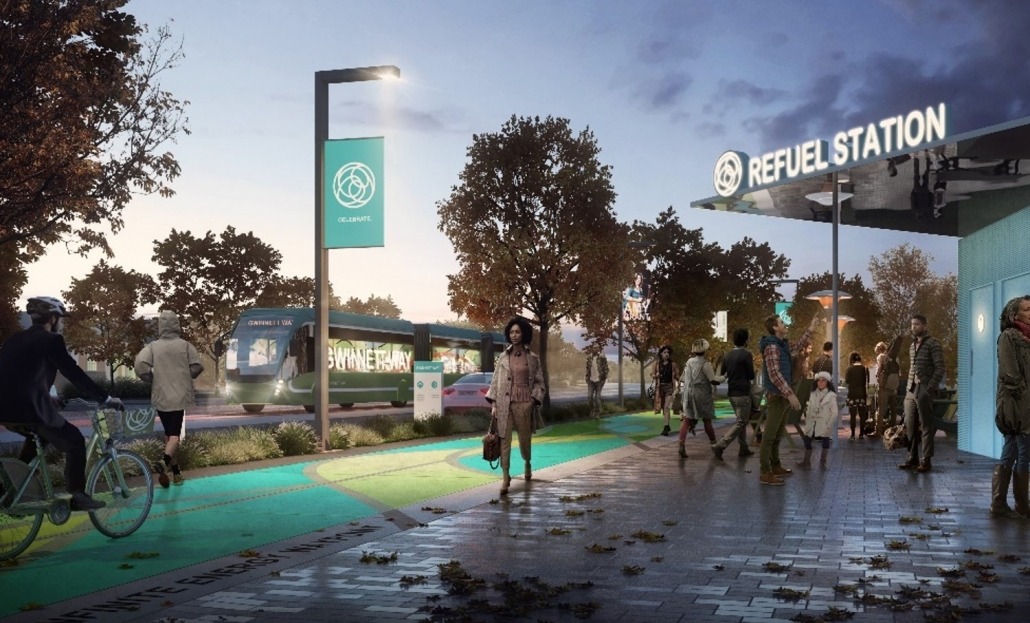 The Gwinnett Transit Plan will enable transit service and infrastructure additions that offer solutions to help address the challenges growth brings, particularly on roadways as Gwinnett continues to experience rapid growth. There are 82 major transit projects in the plan. These include:
Heavy Rail:
The plan includes a heavy rail extension of MARTA into Gwinnett County. This will benefit the Sugarloaf area by providing the regional rail connection, connecting routes that serve our district to the regional rail system.
Bus Rapid Transit (BRT):
BRT functions like light rail with rubber tires featuring premium, high-capacity vehicles that travel in dedicated lanes, and stops only at specific stations, providing faster and more reliable travel. The Sugarloaf CID will be served by three BRT routes.
Arterial Rapid Transit (ART):
ART travels in major corridors across the county with high-capacity, premium vehicles. ART moves ahead of traffic in "queue-jumper" lanes that go around major backups on heavily traveled corridors, stopping less frequently than local buses. The Sugarloaf CID will be served by two ART routes.
Microtransit:
Microtransit offers app-based, on-demand pickup and drop-off bus service to transit and community destinations. It allows individuals to simply request a bus ride that will be provided by the county. Parts of the CID will be served by Microtransit.
Other Options:
Multiple other services including increased local bus service, as well as bike and pedestrian connections to provide better access to transit in the CID.
---
What will passing the plan do for district property owners?
---
This plan means that visitors can easily take transit from the airport to conventions and events at the Infinite Energy Center, workers in the Sugarloaf CID will have access to transit, and students in the CID will have transit access to Gwinnett Tech, Georgia Gwinnett College, and many other major educational institutions throughout metro Atlanta.
More transit access is good for business. Transit provides access to more talent and more potential customers. Nearly one-quarter of Gwinnett residents will be within walking distance of high capacity transit and 57% of the county will be within walking distance of a transit service. The plan represents over 560% increase in transit service hours compared to the existing transit system.
A number of the improvements will be completed in the first 10 years. This referendum differs from the previous plans by completing more projects sooner, expanding coverage, and giving Gwinnett County local control of the transit system.
---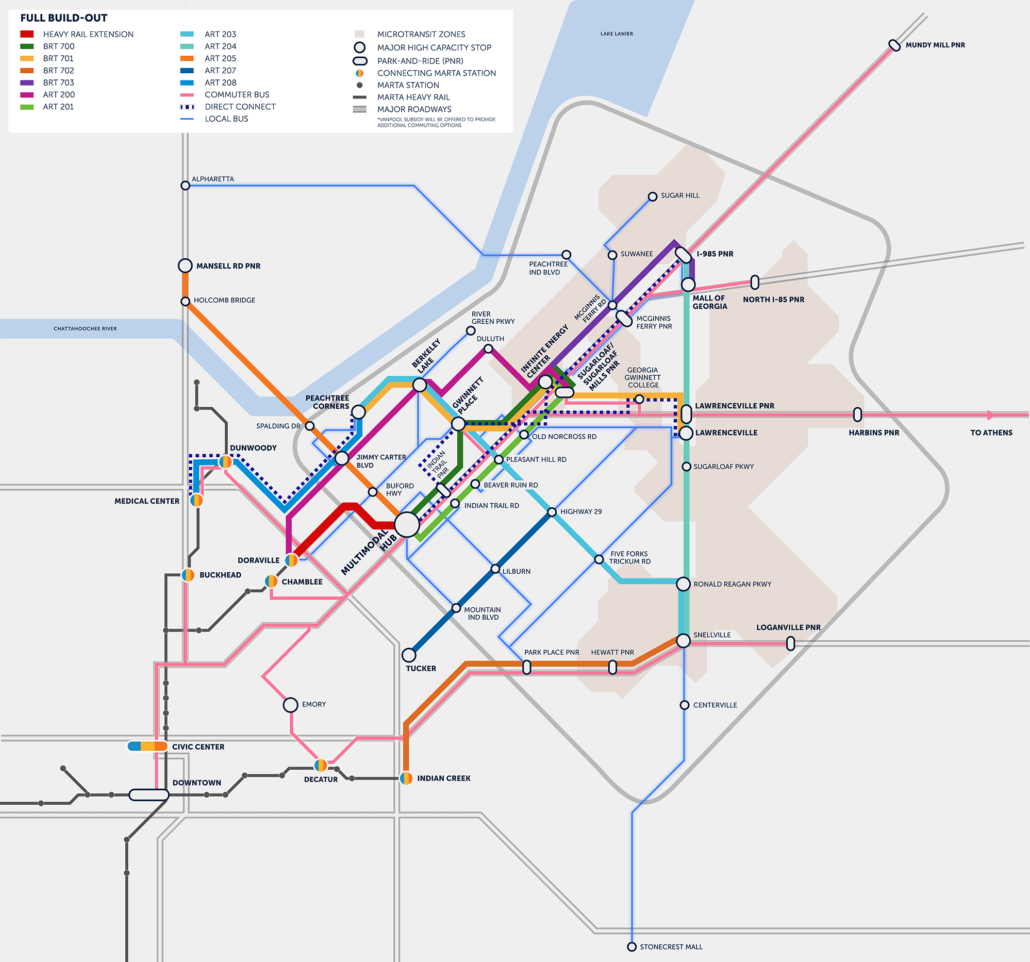 Some Quick Facts
---
The first high capacity transit project that will be completed will be BRT Route 700, connecting the Sugarloaf area (Infinite Energy Center and Sugarloaf Mills) to the regional MARTA rail system. This project could be implemented in 7 years.
The Sugarloaf community would also be served by BRT Routes 701 (Peachtree Corners to Lawrenceville) and 703 (Infinite Energy Center to Mall of Georgia), and arterial rapid transit (ART) Routes 200 and 201.
Portions of the Sugarloaf CID would be served by Microtransit Zone 501.
Expanded Gwinnett bus service in the district and throughout the county will allow for shorter wait times, additional Sunday service, and more direct connections.
The CID will also see new bike and pedestrian improvements to provide connections to transit stations and stops.
---
You can learn more about the Gwinnett Transit Plan and referendum by visiting the sites below: